Discover the unique ACTIA diagnostic solution for light vehicles: Multi-Diag.
MULTI-DIAG, A RANGE ADAPTED TO YOUR NEEDS
A MARKET IN FULL (RE) EVOLUTION
The diagnostics market is constantly evolving and each year new ones develop:
The vehicles are more secure, autonomous and fun to drive. However, their diagnosis becomes more complex, forcing repair networks and independent workshops to adapt ever more quickly to these new challenges.
Complete coverage, repair support and intuitive ergonomics are the key words of ACTIA and its diagnostic range for light vehicles. We develop expert solutions for your workshop, allowing you to deal serenely with these new challenges.
All of your vehicle's Ecus at the click of a button.
Completely each failure thanks to our database linked to the fault codes.
The faulty parts in no time.
All the vehicle information you need.
Your workshop to the vehicle of today and tomorrow.
MULTI-DIAG 360, THE MULTI-BRAND DIAGNOSTIC SOLUTION AT THE HEART OF YOUR WORKSHOP
Multi-Diag 360 is a comprehensive and intuitive multi-brand diagnostic software. This solution is the result of ACTIA's years of experience in automotive electronics.

ESSENTIAL AND EXPERT FUNCTIONS: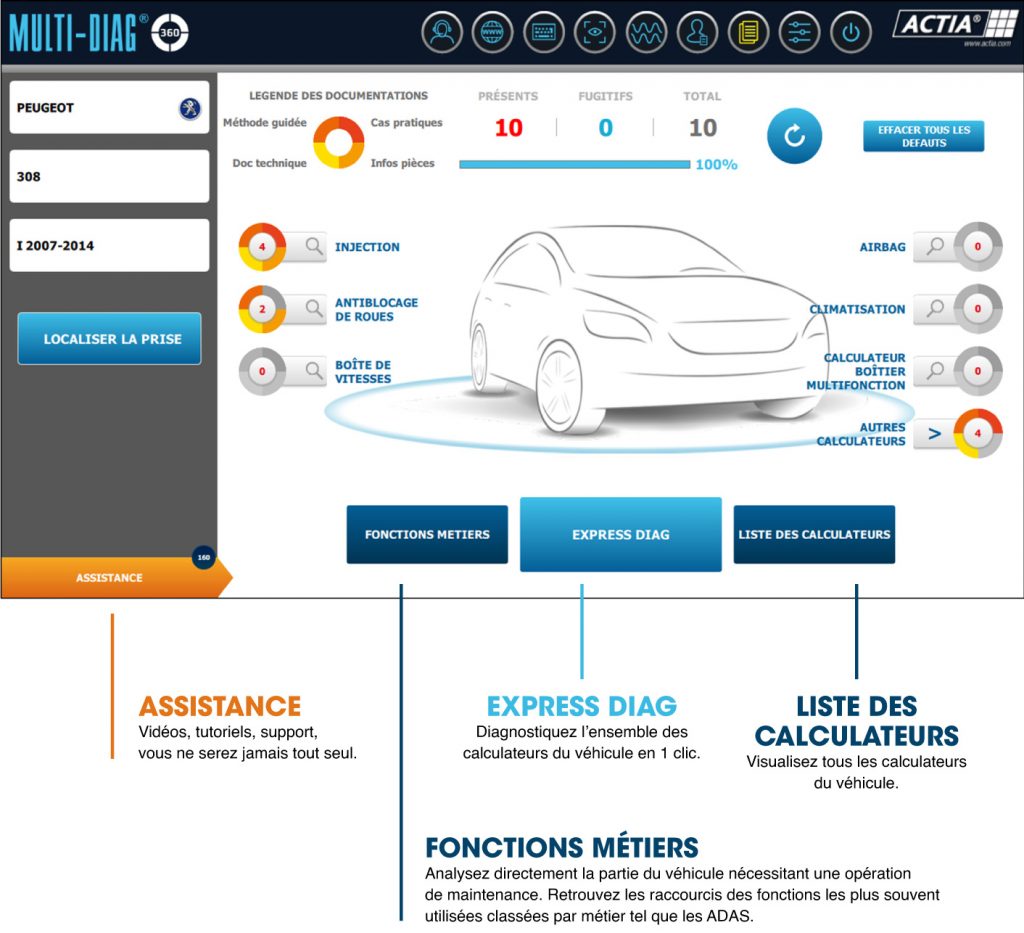 FULL COVERAGE AND REGULARLY UPDATED
Multi-Diag's vehicle coverage is one of the most comprehensive on the European market, with more than 50 different brands and nearly 5,000 models. Our teams work year round to provide you with the latest outings and the most comprehensive coverage possible.

DIAGNOSTIC AND REPAIR RELATED TO OUR REPAIR ASSISTANCE SERVICES

The diagnostic of a vehicle can lead to a breakdown and therefore to a repair. The cause of this failure is either difficult to find or you do not have time to search.

With Multi-Diag's 360 services, we combine expertise, know-how and experience to offer you ongoing support.

DETAILED REPORT

Chaque rapport d'intervention de Multi-Diag 360 se veut clair et précis sur les actions que vous avez réalisées. Vous pourrez donc mettre plus facilement en avant votre intervention pour fidéliser et rassurer votre clientèle.

SERVICE ACTIA

Each Multi-Diag 360 intervention report is intended to be clear and precise on the actions you have carried out. You can therefore more easily highlight your intervention to build loyalty and reassure your customers.
More than 980,000 cases of breakdowns already resolved by our Expert Hotline. Find the symptom(s), the possible cause and the solution to fix a fault code.
With this method, just follow the sequence indicated by the software to find which electronic component is responsible for the fault code.
Access all the information about a vehicle: maintenance plan, reference data (oils, liquid, etc.), wiring diagram and much more!
Access your parts catalog directly linked to the fault code found. Have you analyzed the failed component? Order it in a few clicks.

(option valid for partner catalogs)
EXPERT DIAGNOSTIC ASSISTANCE
Are you refusing sales because of advanced diagnostic services that you have not yet mastered? Are you in need of a technical expert in the workshop? Need to speed up electronic vehicle diagnostics?

Let us carry out the advanced electronic diagnostic functions for you. Expert Diagnostic support is made up of a team of expert technicians trained to respond to your most complex diagnostic issues. In less than 4 hours, our technicians will assist you in resolving breakdowns related to electronic vehicle diagnostics.
HERE ARE SOME CONCRETE EXAMPLES OF USING OUR EXPERT DIAGNOSTIC ASSISTANCE:
For more information, our team is at your service to answer you as soon as possible.