Discover ACTIA's ultimate multi-brand solution for heavy goods vehicles, Multi-Diag Trucks.
MULTI-DIAG, A RANGE ADAPTED TO YOUR NEEDS
With a solid reputation in the electronic diagnostics market for aftermarket networks of independent manufacturers and workshops, ACTIA also designs and develops on-board systems for vehicles for commercial and industrial use.

With Multi-Diag Trucks, you benefit from this dual expertise; an exclusive guarantee on the multibrand diagnostics market for heavy goods vehicles, trailers, buses and coaches.
The best of multi-brand truck diagnostics!
Automatically all errors present in the vehicle.
To the different vehicle systems at the click of a button.
Complete technical documentation directly contextualized.
A robust and reliable solution, supporting multiple protocols.
All American, European and Asian vehicles.
Multi-Diag Trucks is the ultimate solution for multi-brand repair shops. Gigantic coverage, ultra detailed technical data, unique and practical ergonomics. Multi-Diag Trucks will be an ally of choice in your diagnostics and repairs.

FULL COVERAGE OF ALL MAJOR BRANDS of heavy goods vehicles (electronic equipment for trucks and trailers), buses, coaches and commercial vehicles:

Mercedes, Iveco, Renault Trucks, Scania, Volvo, Man, Nissan, DAF, Volkswagen, Askam, Avia, BMC, Ford, Freightliner, International, Kenworth, Mack, Peterbilt, Bova VDL, Setra, ERF, Knorr-Bremse, Wabco, Haldx, etc …

MAIN MAINTENANCE AND REPAIR FUNCTIONS:
DIAGNOSTIC OF THE MAIN VEHICLE SYSTEMS:
THE ADVANTAGES OF THE MULTI-DIAG TRUCKS SYSTEM
With Multi-Diag Trucks analyze quickly and in depth.
EXPRESS DIAG: Diagnose all of the vehicle's computers in 1 click.BUSINESS SHORTCUTS: Directly access the part of the vehicle requiring analysis or maintenance.
MOBILE AND ROBUST: Bluetooth communication mode, diagnostic station adapted to the working environment for maintenance in the workshop or on the road.
EASY AND QUICK TO USE: step-by-step diagnostic methods and procedures, user-friendly interface and navigation.
TECHNICAL AND INTERACTIVE DOCUMENTATION: Access all the vehicle information necessary for diagnosis, repair or maintenance. These data are accessible at different stages of the diagnostic procedure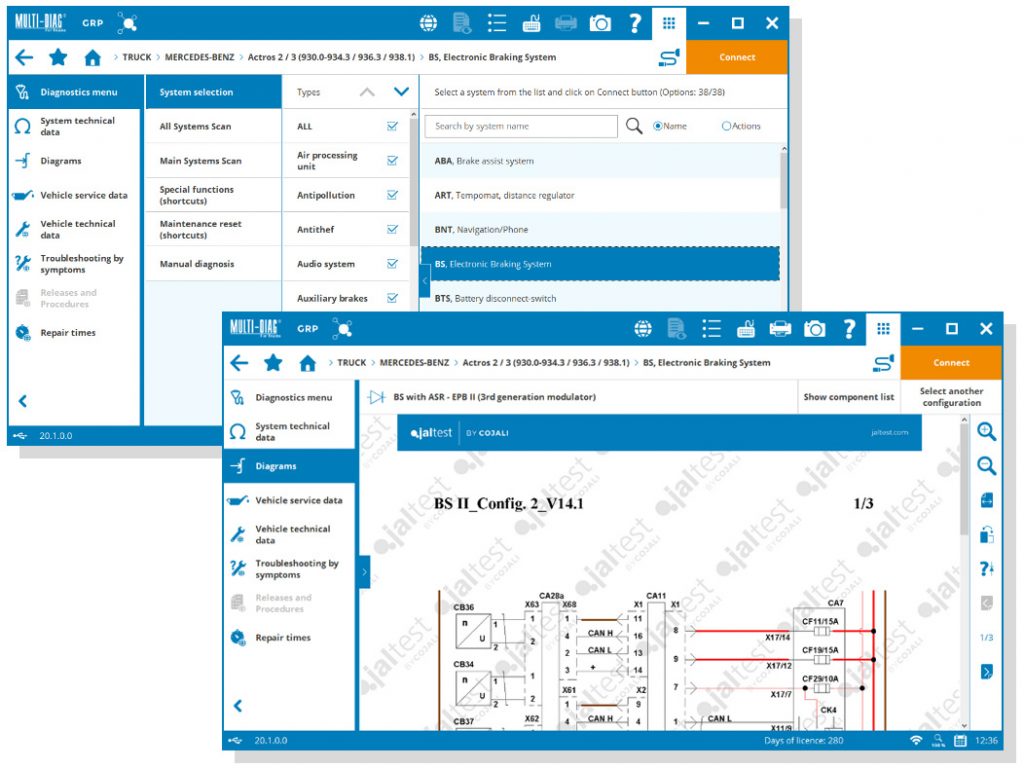 For more information, our team is at your service to answer you as soon as possible.